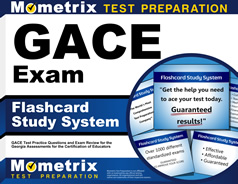 Includes Practice Test Questions
Dear Friend,
Here's a little "secret" about the GACE: the GACE is what we in the test preparation field call a "content driven" test.
While some tests are looking to see what you are ABLE to learn, the purpose of the Georgia Assessments for the Certification of Educators (GACE), offered by the Georgia Professional Standards Commission (PSC) and National Evaluation Systems (NES), is to test your understanding of what you have already learned. The goal of the GACE is to use a standardized testing process to create an objective assessment of a test taker's knowledge and skills.
Here's How to Order Your Copy of the
GACE Flashcard Study System
The GACE Flashcard Study System is available at this web page. Your copy will typically ship within one business day from our shipping facility. These packages retail for $62.99 or more, but are available today starting at only $39.99. It's easy to get your flashcards; just click one of the links below:
GACE Agricultural Education Flashcard Study System
GACE American Sign Language Flashcard Study System
GACE Art Education Flashcard Study System
GACE Basic Skills Flashcard Study System
GACE Behavioral Science Flashcard Study System
GACE Biology Flashcard Study System
GACE Birth to Five Flashcard Study System
GACE Business Education Flashcard Study System
GACE Chemistry Flashcard Study System
GACE Early Childhood Education Flashcard Study System
GACE Economics Flashcard Study System
GACE Educational Leadership Flashcard Study System
GACE English Flashcard Study System
GACE English to Speakers of Other Languages (ESOL) Flashcard Study System
GACE Family and Consumer Science Education Flashcard Study System
GACE Geography Flashcard Study System
GACE Health Education Flashcard Study System
GACE Health and Physical Education Flashcard Study System
GACE History Flashcard Study System
GACE Marketing Education Flashcard Study System
GACE Mathematics Flashcard Study System
GACE Media Specialist Flashcard Study System
GACE Middle Grades Language Arts Flashcard Study System
GACE Middle Grades Mathematics Flashcard Study System
GACE Middle Grades Reading Flashcard Study System
GACE Middle Grades Science Flashcard Study System
GACE Middle Grades Social Science Flashcard Study System
GACE Music Flashcard Study System
GACE Paraprofessional Flashcard Study System
GACE Physics Flashcard Study System
GACE Political Science Flashcard Study System
GACE Professional Pedagogy Flashcard Study System
GACE Reading Flashcard Study System
GACE School Counseling Flashcard Study System
GACE School Psychology Flashcard Study System
GACE Science Flashcard Study System
GACE Special Education Academic Content Concentrations Flashcard Study System
GACE Special Education Adapted Curriculum Flashcard Study System
GACE Special Education Deaf Education Flashcard Study System
GACE Special Education General Curriculum Flashcard Study System
GACE Technology Education Flashcard Study System
By Peter Rench
This Page Last Updated: 05/08/2013