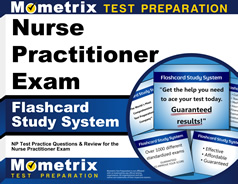 Includes Nurse Practitioner Practice Test Questions
Learn How to Quickly Solve Difficult
Nurse Practitioner Exam Questions
If you are interested in a different ANCC test, we've developed flashcards for most of the ANCC Exam series.
Dear Friend,
Here's a little secret about the Nurse Practitioner Exam: the Nurse Practitioner Exams are what we in the test preparation field call content-driven tests.
While some tests are looking to see what you are ABLE to learn, the purpose of the Acute Care, Adult-Gerontology Acute Care, Adult-Gerontology Primary Care, Adult Psychiatric & Mental Health, Family, Gerontological, Neonatal, Pediatric Primary Care, Psychiatric-Mental Health, and Women's Health Nurse Practitioner Examinations are to test your understanding of what you have already learned. The goal of the Nurse Practitioner Exams are to use a standardized testing process to create an objective assessment of a test taker's knowledge and skills.
In other words, it's more about what you know than your ability to solve clever puzzles. This is good news for those who are serious about being prepared, because it boils down to a very simple strategy:
You can succeed on the Nurse Practitioner Exams and become a Acute Care, Adult-Gerontology Acute Care, Adult-Gerontology Primary Care, Adult Psychiatric & Mental Health, Family, Gerontological, Neonatal, Pediatric Primary Care, Psychiatric-Mental Health, or Women's Health Nurse Practitioner by learning critical concepts on the test so that you are prepared for as many questions as possible.
Repetition and thorough preparation is a process that rewards those who are serious about being prepared, which means that succeeding on the Nurse Practitioner Exam is within the reach of virtually anyone interested in learning the material.
This is great news! It means that if you've been worried about your upcoming Nurse Practitioner Exam, you can rest easy IF you have a good strategy for knowing what to study and how to effectively use repetition to your advantage.
But it also creates another set of problems.
If you tried to memorize every single possible thing you can for your Nurse Practitioner Exam, the field of possible things to review would be so huge that you could not hope to cover everything in a reasonable time.
That's why we created the Nurse Practitioner Exam Flashcards Study System: we have taken all of the possible topics and reduced them down to the hundreds of concepts you must know and provided an easy-to-use learning method to guarantee success on your Nurse Practitioner Exam.
We wanted this system to be simple, effective, and fast so that you can succeed on your Nurse Practitioner Exam with a minimum amount of time spent preparing for it.
Our flashcards cover these exams:
Acute Care Nurse Practitioner Exam, offered by the American Nurses Credentialing Center (ANCC)
Adult-Gerontology Acute Care Nurse Practitioner Exam, offered by the American Nurses Credentialing Center (ANCC)
Adult-Gerontology Primary Care Nurse Practitioner Exam, offered by the American Nurses Credentialing Center (ANCC)
Adult Psychiatric & Mental Health Exam, offered by the American Nurses Credentialing Center (ANCC)
Family Nurse Practitioner Exam, offered by the American Academy of Nurse Practitioners (AANP) and the American Nurses Credentialing Center (ANCC)
Gerontological Nurse Practitioner Exam, offered by the American Nurses Credentialing Center (ANCC)
Neonatal Nurse Practitioner Exam, offered by the National Certification Corporation (NCC)
Pediatric Primary Care Nurse Practitioner Exam, offered by the American Nurses Credentialing Center (ANCC), and the Primary Care Certified Pediatric Primary Care Nurse Practitioner (CPNP-PC®) Exam, offered by the Pediatric Primary Care Nursing Certification Board (PNCB)
Psychiatric-Mental Health Nurse Practitioner Exam, offered by the American Nurses Credentialing Center (ANCC)
Women's Health Care Nurse Practitioner Exam, offered by the National Certification Corporation (NCC)
Here Are Some of the Features of Our
Nurse Practitioner Exam Flashcards Study System
Study after study has shown that repetition is the most effective form of learning, and nothing beats flash cards when it comes to making repetitive learning fun and fast
Flash cards engage more of your senses in the learning process; you compete with yourself to see if you understand the topics, and the flipping action gets you actively involved in the learning process
Our cards are printed on heavy, bright white 67 lb. cover stock, and are laser printed at 1200 dpi on our industrial printers; these are professional-quality cards that will not smear or wear out with heavy usage
We cover all the major content areas on the exam
Our Nurse Practitioner flash cards include an edge that is micro-perforated, which means that you are much less likely to have a painful papercut on your fingers when moving quickly through the cards
Our cards are portable, making it easy for you to grab a few and study while waiting for the bus or the doctor, or anywhere where you have a spare moment that would otherwise be wasted
Our cards are written in an easy to understand, straightforward style; we don't include any more technical jargon than what you need to pass the test
The cards are a generous size, 3.67 x 4.25 inches, that fits perfectly in your hands and they aren't so small that you have to use a magnifying glass to read tiny type; all questions and answers are in a normal-size print for easy studying
Our concept cards include in-depth explanations; you won't see any one-word answers that require you to go get a textbook to figure out what's going on. All of our cards include generous, thorough explanations so if you didn't understand the concept, you will after reading the back of the card!
We use a font that's been proven to be very readable; this will enable you to absorb more information painlessly during late night study sessions
Our system enables you to study in small, digestible bits of information; unlike using boring textbooks, flash cards turn learning into a game you can play until you've mastered the material
It's easy for a friend to help you study. They don't even have to know anything about the Nurse Practitioner Exam; if they can read, then they can quiz you with our Nurse Practitioner flash cards!
Now, let us explain what the Nurse Practitioner Exam Flashcards Study System is not. It is not a comprehensive review of your education, as there's no way we could fit that onto a single set of flashcards.
Don't get us wrong: we're not saying that memorization alone will automatically result in a passing Nurse Practitioner Exam score- you have to have the ability to apply it as well. However, without the foundation of the core concepts, you cannot possibly hope to apply the information. After all, you can't apply what you don't know.
Nurse Practitioner Exam Flashcards Study System is a compilation of the hundreds of critical concepts you must understand to pass the Nurse Practitioner Exam. Nothing more, nothing less.
Here's Exactly What You Get With the
Nurse Practitioner Exam Flashcards Study System
When you order the Nurse Practitioner Exam Flashcards Study System, you'll get our set of flashcards specially selected to give you the most Nurse Practitioner Exam performance improvement for the least time.
Click below to see just a small sampling of the topics covered by our flashcards:
Acute Care Nurse Practitioner Exam Topics
Epidemiological Practices
Nosocomial Infections
Lipoproteins
Primary Hypertension
Hypertrophic Cardiomyopathy
Arrhythmias
Congenital Defects
Acute Respiratory Distress Syndrome
Pathophysiology
Addison Disease
Transient Ischemic Attack
Proteinuria
Glomerular Filtration Rate
Hemodialysis
Fournier Gangrene
Benign Prostatic Hyperplasia
Gastroesophageal Reflux Disease
Polycystic Ovarian Syndrome
Crohn Disease
Acute Myelogenous Leukemia
Melanoma
Systemic Lupus Erythematosus
Marfan Syndrome
Degenerative Joint Disease
Febrile Patient
Hypovolemic Shock
Wound Healing
Evidence-Based Medicine
Serotonin Syndrome
Hypomanic Episode
Alcohol Withdrawal
Obsessive-Compulsive Disorder
Acute Care Nurse Practitioner
High-Acuity Patients
Atrioventricular Nodal Block
Pharmacotherapeutics
Tissue Plasminogen Activator
Theophylline
Pulmonary Hypertension
Interstitial Lung Disease
Addison Disease
Hyperthyroidism
Levodopa
Bacterial Meningitis
Nephrotic Syndrome
Endometriosis
Ulcerative Colitis
Erythropoietin
Chronic Myelogenous Leukemia
Zidovudine
Adult Psychiatric & Mental Health Exam Topics
Intervention
Therapeutic Use Of Self
Transference
Counter-Transference
Nurse-Patient Relationship
Therapeutic Communication
Ethnocentricity
Theory Of Moral Development
Ethnicity
Stereotype
Interdisciplinary Treatment
Theory Of Interpersonal Development
Boyd And Leutje
Client Advocacy
Case Management
Neurobiological Theories
Milieu
Research Based Practice Protocols
Tuckman (1965)
Group Dynamic Issues
Family Therapy
Habeas Corpus
Inductive Theory Construction
Theory Of Self Care
Dorthea Orem
Quasi-Experimental
Theory Of Goal Attainment
Adaptation Model
Principals Of Homeodynamics
Psychodynamic Personality Theory
Ethno-History
Archetype
Theory Of Individual Psychology
Alfred Alder
Theory Of Cognitive Development
Client Centered Theory
Gestalt Therapy
Cognitive Therapy Theory
Transactional Analysis
Neurolinguistic Programming
Family Dysfunction
Neurochemical Transmitters
Substance Abuse
Withdrawal
Acute Hallucinogen Intoxication
Psychotherapeutic Interventions
Obsessive Compulsive Disorder
Post-Traumatic Stress Disorder
Hypochondriasis
Family Nurse Practitioner Exam Topics
Patient Advocacy
Glycemic Control
Neuropathic Complications of Diabetes
American Heart Association
Pharmacodynamics
Anaphylaxis Syndrome
Nicotine Patch
Hepatic Cirrhosis
Nicotine Nasal Spray
Varenicline
Anticholinergics
Leukotriene Inhibitors
Toxicity of Digitalis
Vasodilators
Centers for Disease Control
Anti-Lipids
Histamine Receptor Antagonists
Acetylsalicylic Acid
Anticonvulsants
Microwave Diathermy
Autism Spectrum Disorders
Glasgow Coma Scale
Malpractice
Collaboration
Risk Management
Therapeutic Communication
Bloom's Taxonomy
Labyrinthitis
Ménière's Disease
Pharmacokinetics
Temporomandibular Disorder
Chronic Bronchitis
Emphysema
Pleural Effusion
Edema
Coronary Artery Syndromes
Hodgkin's Disease
Appendicitis
Abruptio Placentae
Bartholin Cyst
Hemophilia
Hyperthyroidism
Continuous Quality Improvement
The Shewhart Cycle
Fetal Alcohol Syndrome
Encopresis
Bristol Stool Form
Braden Scale
Genetics
Neonatal Nurse Practitioner Exam Topics
Perinatal History
Pre-Eclampsia
Diabetes Mellitus
Congenital Varicella Syndrome
Parvovirus
Group B Streptococcus
Toxoplasmosis
Sickle Cell Anemia
Hyponatremia
Folic Acid Deficiency Anemia
ABO Compatibility
Rh Sensitivity
Amphetamines
Fetal Alcohol Syndrome
Fetal Lung Maturity
Vital Signs
Modified Ballard Score
Gestational Age
Intrauterine Growth Restriction
Behavioral Assessment
Microbiological Testing
Electrolytes
Thyroid Hormones
Hypocalcemia
Bag and Mask Ventilation
Endotracheal Intubation
Peripheral Catheterization
Pleur-Evac System
Congenital and Neonatal Infections
Spinal/Lumbar Tap
Suprapubic Bladder Aspiration
Tracheostomy Management
Thermoregulation
Delivery Room Preparation
Resuscitation and Stabilization
Birth Asphyxia
Naloxone Hydrochloride
Non-Nutritive Sucking
Digestion and Absorption
Caloric Requirements
Trophic Feedings
Intravenous Lipids
Composition Of Breast Milk
Preterm Formulas
Fat-Soluble Vitamins
Carnitine Supplementation
Hypermagnesemia
Metabolic Acidosis
Parenteral Infusion
Pediatric Primary Care Nurse Practitioner Exam Topics
Youth Risk Surveillance System (YRSS)
Autism Spectrum Disorders
Mental Health Problems
Diabetes Mellitus in Children
Vaccines
Nutrition
Health Behavior Guidelines
Growth and Development
Screening Procedures
Acute Epiglottitis
Acute Tracheitis
Streptococcus Pneumoniae
Apnea of Prematurity (AOP)
Pneumothorax
Asthmaticus
Methicillin-resistant Staphylococcus Aureus
Retinopathy of Prematurity
Strabismus
Nystagmus and Blepharoptosis
Otitis Media and Otitis Externa
Recurrent Epistaxis
Hypertrophic Pyloric Stenosis
Malrotation and Yolvulus
Necrotizing Enterocolitis
Hernia
Encopresis
Giardia lamblia
Intestinal Parasites
Crohn's Disease
Peptic Ulcer Disease (PUD)
Acute Abdominal Trauma
Congestive Heart Failure
Hypertrophic Cardiomyopathy
Atrial Septal Defect (ASD)
Patent Ductus Arteriosus
Tetralogy of Fallot
Hypoplastic Left Heart Syndrome
Cardioverter Defibrillator (ICD)
Mitral Stenosis
Renal Pelvis and Glomerulus
Epispadias
Ureteropelvic Junction Obstruction
Persistent Cloaca
Hemodialysis
Spinal Cord Injury
Myelomeningocele
Head trauma
Infectious Encephalopathy
Seizures
Legg-Calvé-Perthes Disease
Pseudohypertrophic (Duchenne)
Candidiasis
Burn Injuries
Necrotizing fascitis
Hypothyroidism
Adrenocortical Insufficiency
Pheochromocytoma
Cultural Diversity
Therapeutic Communication
Anticipatory Guidance
Professional Role and Policy
Confidentiality
Genetic Testing
Malpractice
Intra- and Interdisciplinary Education
Research
Optimal outcomes
Continuous Quality Improvement
Shewhart Cycle
Psychiatric-Mental Health Nurse Practitioner Exam Topics
Mood Disorders
Psychotic Disorders
Anxiety Disorders
Sleep Disorders
Tardive Dyskinesia
Chronic Pain
Mental Illness
Depression
Malnutrition
Physical Abuse
Suicide Risk Assessment
Domestic Violence
Family Violence Prevention Fund
Elder Abuse
Bereavement
Substance Abuse
Peck's Theory of Adult Development
Erikson's Theory of Psychological Development
Resiliency Theory
Maslow's Hierarchy of Needs
Jung's Theory of Individualism
Confusion Assessment Method
Geriatric Depression Scale
Trail Making Test
Digit Repetition Test
Drug Screening
Beck Depression Inventory
Meningococcal Vaccine
Women's Health Care Nurse Practitioner Exam Topics
Systems Review
Hematologic
Anthropometric Measurements
Vital Signs
Lacrimal Glands
Venous Insufficiency
Musculoskeletal
Blood Typing
Antibody Screening
Reproductive Hormone Tests
Rubella
Autoantibodies
Creatinine Clearance
Triglycerides
B Streptococcus
Laparoscopy
Hysteroscopy
Sigmoidoscopy
Bone Densitometry
Genetic Markers
Karyotype
Vitiligo
Psoriasis
Pulmonary Embolism
Hyperlipidemia
Major Depressive Episode
Polycythemia
Parenting
Stress Management
Delayed Puberty
Adenomyosis
Adnexal Masses
Fibroadenoma
Pelvic Organ Prolapsed
Human Papillomavirus
Malnutrition
Down Syndrome
Congenital Heart Defects
Intrauterine Fetal Death
Hyperemesis Gravidarum
Hellp Syndrome
Rh Incompatibility
Endocrine System
Postpartum Physiological Changes
Uterine Involution
Postpartum Exercise
Lithium Toxicity
Benzodiazepines
Tardive Dyskinesia
Human Subject Protection
Remember, this is just a small sampling of the topics covered in our system. Overall, you get our premium-quality flashcards covering everything you'll need to succeed on the Nurse Practitioner Exam.
Receive the Following Bonuses
Since we know it's 100% to your benefit to use our flashcards, we want to further encourage you by also including the following with your order:
Bonus One

Nurse Practitioner Exam Practice Test Questions: Think you're ready for the Nurse Practitioner Exam? Test yourself using our practice test questions. Find out if you're prepared or if you need to head back to the flashcards for another review. Use our practice test questions to make sure that you're not caught off guard on test day!

Our Nurse Practitioner practice test questions give you the opportunity to test your knowledge on a set of questions. You can know everything that is going to be covered on the test and it will not do you any good on test day if you have not had a chance to practice. Repetition is a key to success and using practice test questions allows you to reinforce your strengths and improve your weaknesses.

Detailed answer explanations are included for each question. It may sound obvious, but you have to know which questions you missed (and more importantly why you missed them) to be able to avoid making the same mistakes again when you take the real test. That's why our Nurse Practitioner practice test questions include answer keys with detailed answer explanations. These in-depth answer explanations will allow you to better understand any questions that were difficult for you or that you needed more help to understand.

Bonus Two

Special Report: The Leitner Method for Maximizing Flashcard Learning: in the 1970's a German psychologist developed a learning system that turned the humble flashcard into an advanced learning technology. His method teaches you to learn faster by playing a simple game with your flashcards, with the help of a few items you probably have around your home. Simple to learn, but incredibly effective, our free report shows you exactly how to use his method in plain, easy-to-understand language.

Bonus Three

Study Skills: The way to get the test score that you deserve is by proper preparation. That includes knowing both what to study and how to study. Our Nurse Practitioner Exam Flashcards Study System will teach you what you need to know, but our Study Skills bonus will show you HOW to use it to be successful as you prepare for your Nurse Practitioner Exam. Improving your ability to learn and to learn faster will accelerate your progress as you study for your test. Here is some of what is included:

Starting off right by having the proper mindset and intensity
Designing a plan, schedule, and goals that will help you target success
Working through your preparation plan as you study
Recognizing the difference between effective and ineffective studying
Understanding how to use resources and identifying key information
Being prepared for the unexpected and staying focused on exam day

Study Skills teaches you everything you need to know about studying, so that you can maximize the effectiveness of the time you spend in preparation and are guaranteed to get the results you deserve on test day. Study Skills is an in-depth, comprehensive study manual and is here available completely free along with your regular purchase of a copy of our Nurse Practitioner Exam Flashcards Study System.

Bonus Four

Lesion Chart Review: Utilizes key signs and symptoms to help you remember the specific neurological lesion location in the brain. This is a valuable quick reference chart that keeps you from making typical mistakes.

Bonus Five

Pharmacology Generic/Trade Names of 50 Key Drugs in Medicine: This is an exclusive list of key drugs that you will run across and a great cross reference tool to remember what obscure yet important generic or trade names key drugs are related.

Bonus Six

Basic Review of Types of Fractures: Could you tell the difference between a traumatic fracture and a fissured fracture? How about a greenstick fracture? Use our exclusive review of fractures to refresh your memory and give you everything you ever wanted to know about fractures.

Bonus Seven

CPR Review/Cheat Sheet: Do you know the rate or depth of compression for an infant? Use our quick review/cheat sheet to make sure that you don't forget critical CPR information that you might need to know sooner than you think. Every medical professional needs to know CPR. Reduce study time by using our CPR Review guide and increase your level of preparation for medical emergencies.

Bonus Eight

High Frequency Medical Terminology: This includes our exclusive collection of medical terminology definitions and abbreviations that frequently appear on the Nurse Practitioner Exam, along with an in-depth review of the prefixes, suffixes, and root words that make up most of our modern medical vocabulary: even if you don't recognize a word, you'll be equipped to decipher its meaning. Use our list of high frequency terms to help focus your study time so you won't get caught off-guard with terminology you may not have thought about reviewing.

Bonus Nine

How to Overcome Test Anxiety: Do you get really nervous before important tests? If so, you could be suffering from a mild form of what's known as test anxiety. This special report on test anxiety gives you important research, including our exclusive tips on how to make your test-taking experience as stress-free as possible while maximizing your score.
By the way, these bonuses are yours to keep even in the unlikely event you decide to take advantage of our ironclad money-back guarantee:
You Cannot Lose With Our
No-Questions-Asked 1-Year Money-Back Guarantee
We stand behind our offer with a no-questions-asked 1-year guarantee on our products.
So go ahead and order your copy of the Nurse Practitioner Exam Flashcards Study System from this site today. Read them, study them, and profit from them. If you don't think they are helping you prepare for your Nurse Practitioner Exam, you can return them for a 100% refund of your product price, no questions asked.
We think that speaks volumes about our confidence in our products. We are also members of the Better Business Bureau.
If you think there's even the smallest chance that these flashcards will help you, you owe it to yourself to try them out. Don't let fear or doubt stand in the way of what could be your best opportunity to achieve the test score you need to fulfill the dream you deserve.
What we're saying is, don't decide now if these flashcards are for you. Just get them from this site and try them out. If they don't do everything we say and more, if you don't save money, time and frustration, if they aren't what you thought they were, if they don't work for you, you have nothing to worry about because you can get every dime of your money back under our no-loopholes guarantee. So you have nothing to lose and everything to gain.
Our belief is simple: either this product helps you or you don't pay. Period. No gimmicks, no asterisks.
Here's How to Order Your Copy of the
Nurse Practitioner Exam Flashcards Study System
The Nurse Practitioner Exam Flashcards Study System is available at this web page. Your copy will typically ship within one business day from our shipping facility. These packages retail for $105.99 or more, but are available today starting at only $59.99. It's easy to get your flashcards; just click one of the links below:
Acute Care Nurse Practitioner Exam Flashcards Study System
Adult-Gerontology Acute Care Nurse Practitioner Exam Flashcards Study System
Adult-Gerontology Primary Care Nurse Practitioner Exam Flashcards Study System
Adult Psychiatric & Mental Health Nurse Practitioner Exam Flashcards Study System
Family Nurse Practitioner Exam Flashcards Study System
Neonatal Nurse Practitioner Exam Flashcards Study System
Pediatric Primary Care Nurse Practitioner Exam Flashcards Study System
Psychiatric-Mental Health Nurse Practitioner Exam Flashcards Study System
Women's Health Care Nurse Practitioner Exam Flashcards Study System

By Peter Rench
This Page Last Updated: 09/18/2020